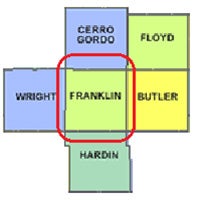 About Franklin Rural Electric Cooperative
Franklin Rural Electric Cooperative is an electrical distribution cooperative serving members since 1936, Franklin REC is a member-owned, not-for-profit electric cooperative that provides reliable, competitively priced electric energy to businesses, industries, farms and homes in six counties in Iowa, Franklin, the southern third of Cerro Gordo, and portions of Butler, Floyd, Hardin and Wright counties.
Franklin REC maintains about 2,000 points of service at homes, businesses and organizations spread across approximately 800 miles of power lines.
A dedicated board of directors elected by members makes strategic decisions about rates, service reliability, investments and other important issues such as allocating and retiring capital credits (patronage).
Office
1560 Highway 65
PO Box 437
Hampton, IA 50441
Hours
September-May: Monday-Friday 7:00 a.m.- 3:30 p.m.
June-August: Monday-Friday 6:30 a.m.-3:00 p.m.
Phone 
641-456-2557 
Holidays (office closed):
Monday, Jan.2, 2023
Monday, May 29, 2023
Tuesday, July 4, 2023
Monday, Sept. 4, 2023
Thursday and Friday, Nov. 23 and 24, 2023
Monday, Dec. 25, 2023
Monday, Jan. 1, 2024
2023 Board Meeting Dates:
Tuesday, Jan. 24
Tuesday, Feb. 21
Tuesday, March 28
Tuesday, April 25
Tuesday, May 23
Tuesday, June 27
Tuesday, July 25
Tuesday, Aug. 22
Tuesday, Sept. 26
Tuesday, Oct. 24
Monday, Nov. 27
Tuesday, Dec. 26
All board meetings are held in the board room at the co-op headquarters unless noted otherwise.
(If you would like to attend a board meeting, please contact the general manager at least five days prior to the meeting date.)